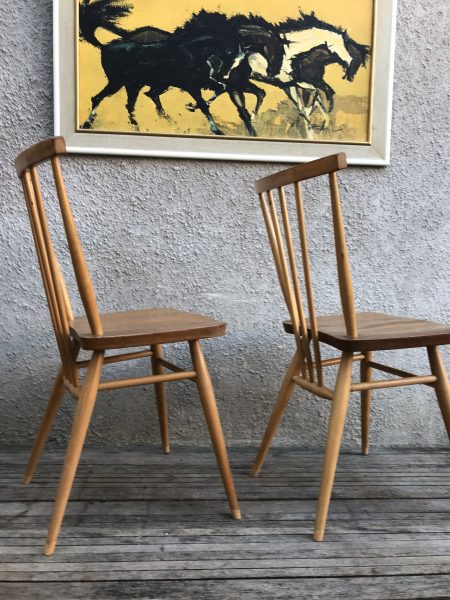 2 x Vintage Retro Blonde Ercol All Purpose Chairs 391 SOLD
Pair of extremely comfortable Blonde All Purpose Dining chairs model 391. With the classic Ercol rounded oyster shaped seat.
Beautiful wood grain that you would expect from vintage Ercol Chairs – solid construction and sturdy. I have given each chair a light clean – ready to go straight into your home!!
Ercol is a British furniture manufacturer which was established in the 1920s by Italian furniture maker Lucian Ercolani. Ercolani thought the beautiful simplicity of the Windsor Chair, itself an evolution from the most basic piece of furniture – the three-legged stool, would be ideal to fulfil the contract. The Windsor Chair has a seat with four legs stuck into the bottom of the base and several bent wooden rods made up the back. There are various different styles. It originated in the High Wycombe area in the seventeenth century.
Measurements:
Height Floor to seat 44cm
Overall Height 78cm
Width of seat 39.5cm
Depth of seat 39cm
Contact us if interested