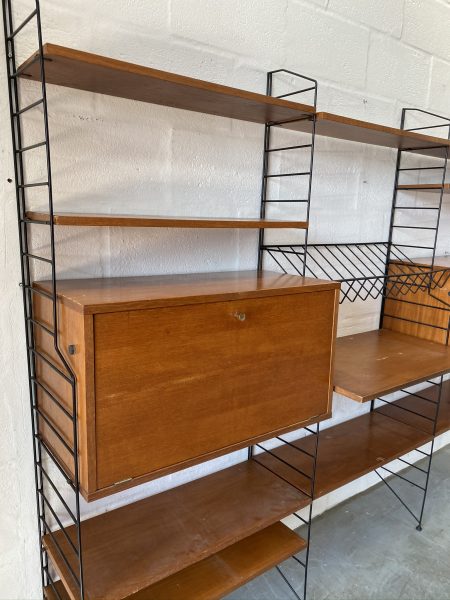 1960s Mid Century Shelving Unit by Brianco  SOLD 
Modular shelving by Brianco 1960s.
Comprising of:
10 individual shelves (5 wider ones and 5 thinner ones)
4 upright ladders
1 wider shelf (desk)
Bureau cabinet
Cupboard with internal shelf
Magazine rack
2 smaller mini ladders (featured on the floor) plus 4 mini shelves.
Whilst the (biggest) ladders will free-stand it is best when you've decided on your layout to secure the ladder to the wall with a simple screw – holes are present within the ladders to do this). Each ladder has a small plastic foot to help stability.
The layout is dependent on you and your living space. This doesn't have to to be in one block. However the length shown in the pictures is W231cm.
The shelving is all in good vintage condition with some minimal age related wear. Please review the photos – happy to answer any questions.
Measurements:
Ladders H181cm
Cabinet / bureau D37cm
Overall width 231cm
Free delivery within Cardiff.
Nationwide courier available 
Contact us if interested.